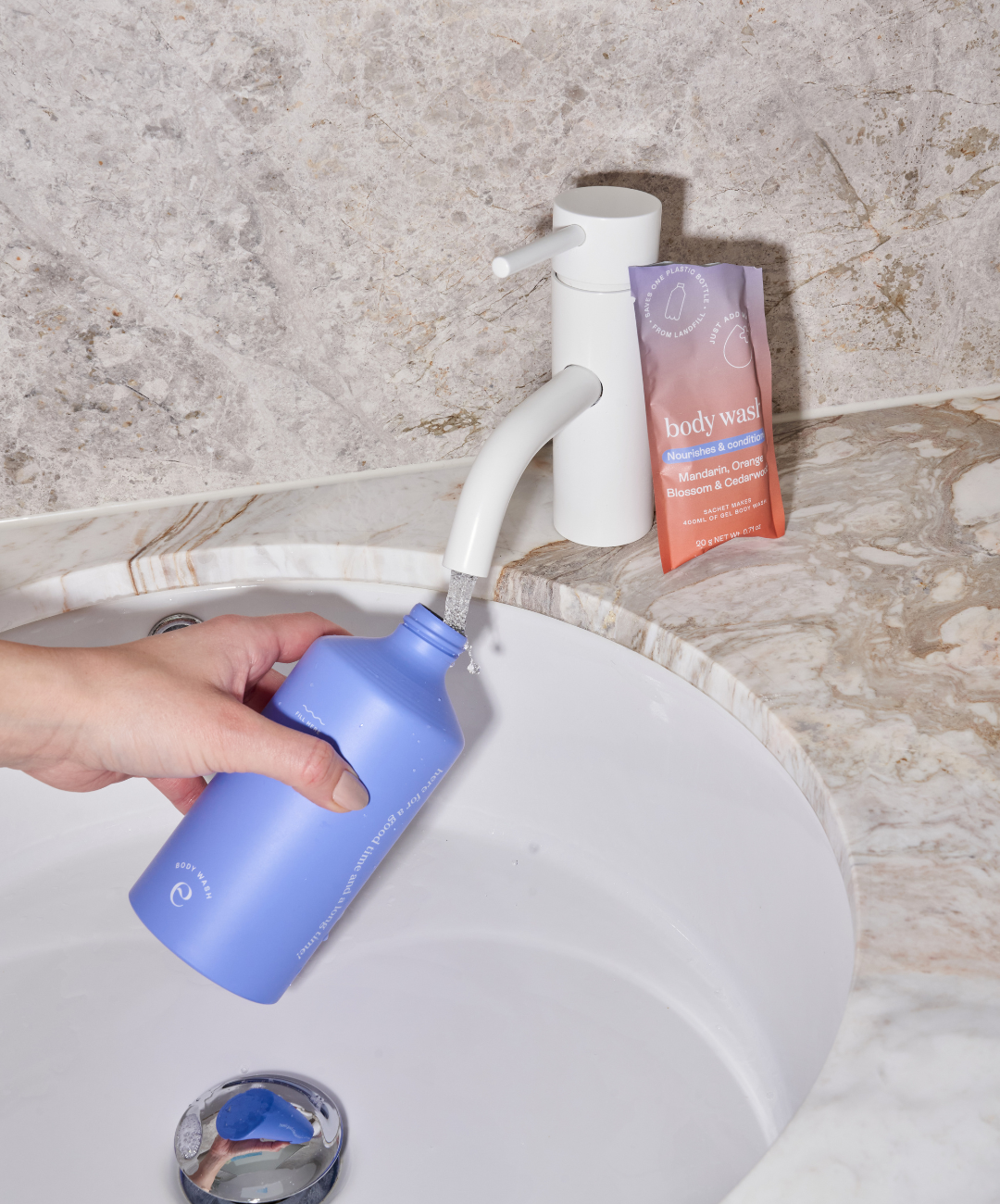 It's giving positive impact.
One thing's for sure: beauty refills are having a main character moment, and it's about damn time.
Here's the thing: traditional plastic recycling is far from effective. According to Plastic Pollution Coalition, only 13% of plastic containers *actually* get recycled. The rest end up in landfill where they remain for up to 800 years. Not quite the retirement plan we had in mind for our beloved mascara tubes.
Considering that the cosmetic industry churns out 120 billion bits of packaging each year (!!), these stats are a major wake-up call. 
But enough with the gloom. When you grab a refill (namely byoH20's body wash sachets) over an entirely new product, you're basically giving the planet a big ol' bear hug. 
In fact, choosing beauty refills leads to 90% fewer CO2 emissions. Impressive, right?
Still on the fence about why you should join the byoH20 refill revolution? Here's 7 stellar reasons below.
Captain Planet approved


Waterless refills mean less weight, leading to fewer CO2 emissions. No more bulky bottles clogging up landfills. Just grab our

starter pack

, and refill 'til the end of time.




Made from only the good stuff


Our neat little powder sachets are packed with a ton of better-for-you ingredients that will nourish your skin from head to tippy toes, get your barrier back in check and leave you glowier (and better-smelling) than before.




You'll have a new travel buddy


No fuss, no mess, and definitely no more bag leaks or suitcase spillages. These babies are TGA-approved and convenient as heck, especially if you're a travel buff.




No more side eye from your wallet


Forget about extra costs for packaged water, plastic, and shipping. One sachet = 38 washes. More perks for your piggy bank.




So darn simple to use


Think refilling is a chore? Nah. Just add warm water, the sachet powder, give it a shake, wait an hour, and bada-bing! Ready to go.




You can try before diving in


Fancy a test drive? Purchase the

refills

only, then use any old bottle at home to experience the refill magic for yourself. We're flexible like that.




Possibly (definitely) the funnest body wash you'll ever use


'nuff said.
We won't riff on about how there's no Planet B (unless you plan to move to Mars) or that Earth is the only home we've got, yada, yada. You already know that. We will say that small shifts in your routine can make a big difference in battling plastic pollution. Switching to refillable personal care cuts back on waste and saves both time and money. It's a no-brainer, really. Mother Earth sends her love.