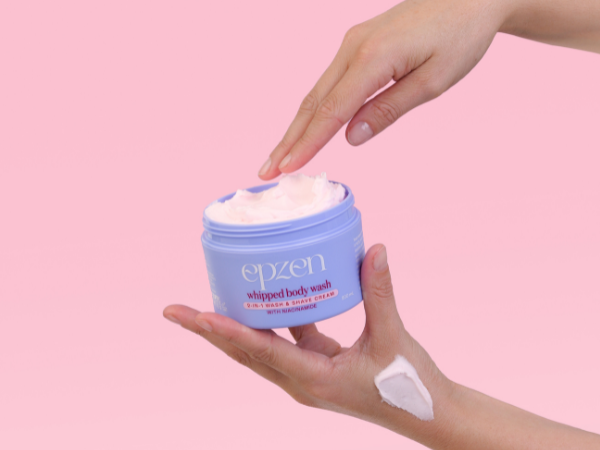 To all the body washes I've loved before…  (sry, not sry). 
Consider this a fair warning: if you continue scrolling through this article, you're likely going to crave a sweet, sugary, possibly maple-syrup-flavoured marshmallowy treat (did we just invent a new dessert?). And by treat, we're talking about two new shower buddies that are about to claim #1 position on your bathroom shelf. Don't say we didn't warn you.
First up, say hello to Whipped Body Wash - a multi-tasking skin cleanser and supreme shaving companion. You know how some body washes are so watery they slip right through your fingers? Or how some shaving creams have a gloppy-like consistency? This one is super fluffy, with a whipped, meringue-like texture that absorbs quickly and provides pillowy proection. It makes for a luxurious lather, serving up effortless glide and delicious-smelling skin.
What's it made of? Plenty of good stuff. Think shea butter for that lush hydration without the icky greasiness, marshmallow root extract to combat calm any angry redness, and niacinamide for an even-toned, deeply moisturised finish.
Want to get up close and personal? Here's how: Skip dessert and head straight to the shower. Scoop up a generous dollop and massage it all over damp skin using circular motions. Focus on areas that need a little extra TLC. Wait a minute for it to work its magic, then rinse off to reveal your glow. Need to nix hair off your bod? Slather on some creamy goodness, hold your skin and begin shaving in the direction of hair growth. Your razor will float right over.
Next on the shower scene, AHA Exfoliating Body Wash. A delectable cleanse and polish all-rounder that will not only sweeten you up, but smooth you all over. Featuring the maple syrup fragrance of your dreams, this baby revitalises dull skin and dull shower routines. Slather on to swipe out redness, body acne and bumpy bits.
What's it made of? More than just a pretty (and delectable) scrub, it features our all-natural AHA concoction of silver maple, orange, lemon, blueberry and sugarcane which helps decongest clogged pores and whisks away flaky skin. Quartz (ooo, witchy) gently exfoliates skin to glowing perfection, while grapeseed oil soothes redness and quenches thirsty limbs. 
Want to get up close and personal? Here's how: Just like our Whipped Body Wash, scoop up a generous amount, massage all over your body, focusing on those areas that need a good buff (ahem, elbows), then rinse to reveal skin that's smooth AF and smelling like a total snack. Give this a whirl 2-3 times a week to kick dryness to the curb and show lacklustre skin who's boss.
What are you waiting for? Go grab some whipped goodness, and treat skin to the TLC it deserves. You can also treat your stomach to what it deserves (pancakes) but that's entirely up to you.